Stuff: Shelfie: The 'look good, feel good' beauty products fashion designer Annah Stretton swears by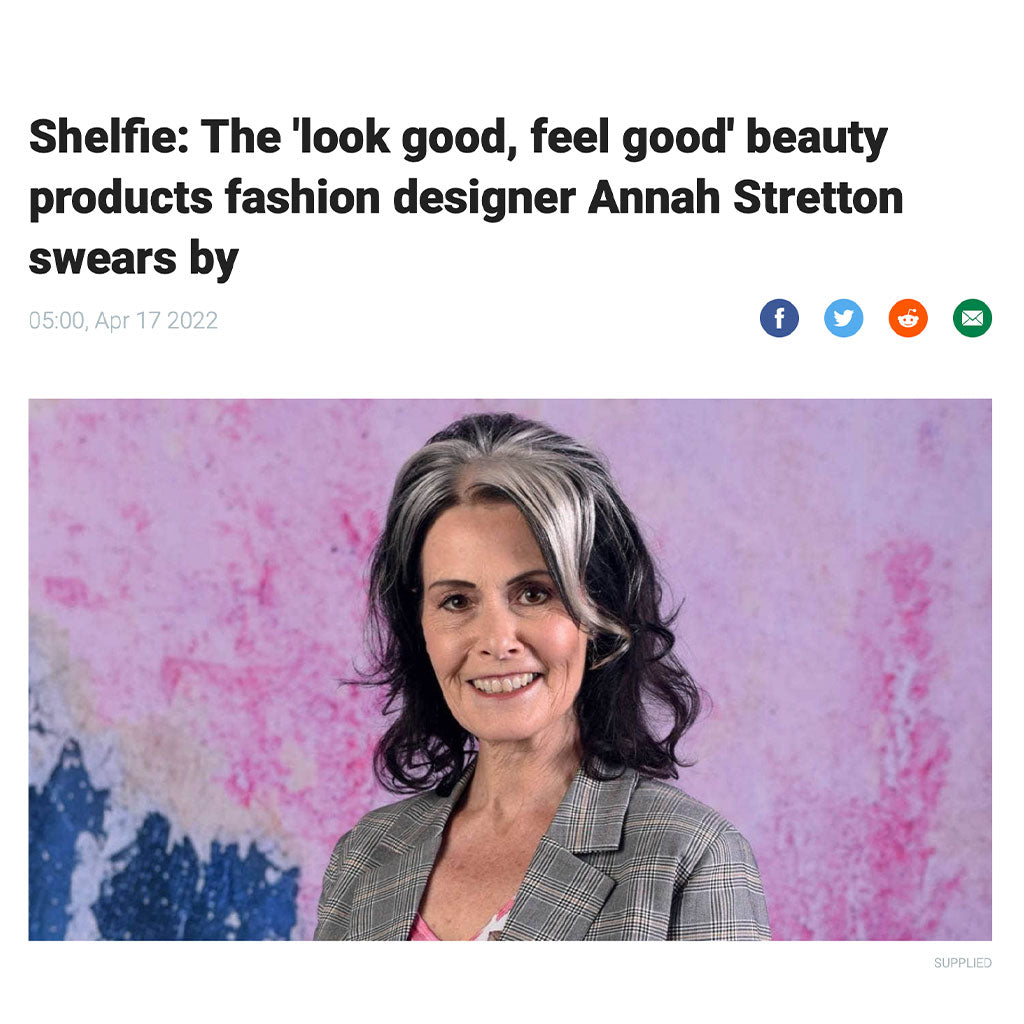 Fashion designer and entrepreneur Annah Stretton is celebrating 30 years of her namesake brand this month, with the release of new book Grit Before Grace. Of her approach to beauty, the Waikato-based designer likes to combine it with wellness.
"While my beauty and wellness routines need to be simple to fit in with my multi-level life, they also need to live up to their hype and be as natural as possible," she says of her approach to beauty.
"Each of these products play an important part in my daily routine and enable me to embrace my early 60s with the 'look good, feel good' energy of a 40-year-old."
Wouldn't Know 'Em From a Bar of Soap Co. activated charcoal soap, $8.50
I love this product. It sits on a wooden soap rack in the shower, is my daily "go-to" cleanser and lasts forever. I trust the manufacturing process: I love the fact these guys are local (I found them at the local farmers' market), and the way it makes my skin feel.
Hairstory New Wash Original, $75
A new trial product for me. I had seen their social media ads and decided to give it a go. So far so good. I love the simplicity of an all-in-one concept, and it certainly makes my hair feel and look great.
dōTERRA Geranium oil, $58
I'm not a fan of synthetic perfumes, so I always look for natural alternatives. Essential oils are a huge part of my wellness program, so it made perfect sense to include them in my beauty routine.
Make sure to dilute with fractionated coconut oil when you put it on your skin. I often add rose oil as well.
Nivea Q10 Skin Firming Lotion, $10.50
I feel like I've been using this product all of my life. It's another non-negotiable for me.
It's affordable, readily available, unscented, absorbs quickly into the skin, and lasts all day. I love it!
Emma Lewisham Skin Reset Serum, $148
A new discovery and wow, who would have thought a product could make such a massive difference? I use it on my face and the back of my hands. It's local, science-backed and it works.
Karen Murrell lipstick in 30 Driven, $32
Obviously the name of this lipstick is perfect for me. The product also feels great and lasts. Once again, made by a local and a natural product that actually works.
Nutrient Rescue Double Shots, $75, Ārepa Nootropic Powder, $47, and Matakana Superfoods Organic Turmeric powder, $9
Beauty and radiance, as we all know, is equally about what is happening on the inside. This product is my daily non-negotiable mix (not a great taste) from suppliers that I trust and genuinely makes a massive difference to the way I function daily.
I mix them together based on the instructions, remembering to add ground black pepper to activate the turmeric, and take it like a "shot" each morning.
17th April 2022